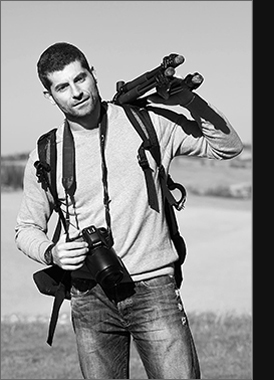 Francesco was born in 1980 in Rome and he started his photography studies at the Scuola Romana di Fotografia, where he furthered his technique by an intensive use of film cameras and by developing and printing by himself.
He prefers geographic reportage and travel photos and specializes in landscape photography, where he focuses most of his efforts.
He utilizes digital equipment but prefers his Fuji GX 617 for the landscapes shots, being a large format range panoramic camera. He uses a Hasselblad Imacon scanner and personally follows the whole process of its production: step by step, from shooting to printing.
Among the over 40 international awards received, in 2015 he ranked among the 'finalists with merit' in the "European Professional Photographer of the year" contest (photo: Rainbow Canyon) ; in 2012 he ranked the 5th overall winner in the "Epson International Pano Award" contest – Nature category with the photo "Infinity" obtaining a Gold Award acknowledgment and exhibited in the "Melbourne Exhibition Centre" by Epson Australia. In 2011 he achieved the "Recognition of excellence" for the Medium Format Fine Art and Landscape categories at the "International Loupe Awards".
He is continuously trying to improve his work and is always looking for the best print materials, in order to obtain excellent results for all his photos, which are all printed in limited editions and available up to extra large sizes.